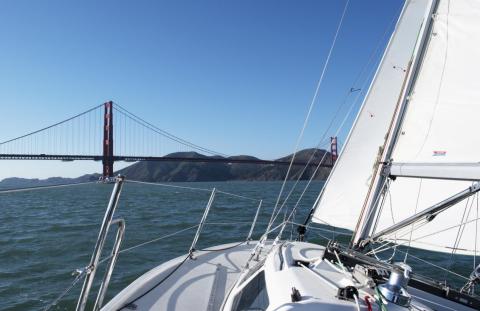 Daylight Saving Season is every sailor's favorite time of year. More hours of sunshine, warmer weather, and stronger, more consistent winds are returning to San Francisco Bay. What are some of the other changes that Modern Sailing members can expect after the clock springs forward one hour?
1) Sunset charters (4:00 - 8:00 PM) are available for reservation during Daylight Saving Season. 
Qualified Platinum Fleet members (ASA 104 or Night Sailing Clinic certified) can keep the boat out after sunset to enjoy the magic of sailing the Bay at night.
Silver Fleet members must return the boat to dock by twilight.
Call our office the morning of your charter. If the boat isn't reserved for a Prime Time charter ahead of your Sunset reservation, you can check in as early as 2:00 PM!
Through April 15, 2020, you can purchase your midweek sunset sails in advance and save up to 35% with our Midweek Sunset Specials.
2) Prime Time charter hours shift to 9:00 AM to 3:30 PM. (During the winter season, Prime Time charter hours are from 9:00 AM to 5:00 PM.)  If you go sailing on a Prime Time charter, be sure to return to dock by 3:00 in order to clean up and disembark by 3:30. This gives our Fleet Staff time to prepare the boat for a Sunset charter.
3) Summer bareboat charter rates are now in effect. Visit our Boats & Rates page for rate details.
4) Après Sails are hosted in the Modern Sailing lounge every Saturday and Sunday from 3:30 to 5:00 PM. After your class or sail, join your friends for complimentary snacks and beverages, including wine and beer! (During the winter season, Après Sails are held on alternating Saturdays or Sundays.)
5) A wider variety and more frequent Club Sails are now available. Wednesday Sunset, TGIF, Jazz by the Bay, Full Moon, and 4th of July Club Sails are open for enrollment now! Opening Day on the Bay Club Sails (April 26) will be added soon. Sign Up Online