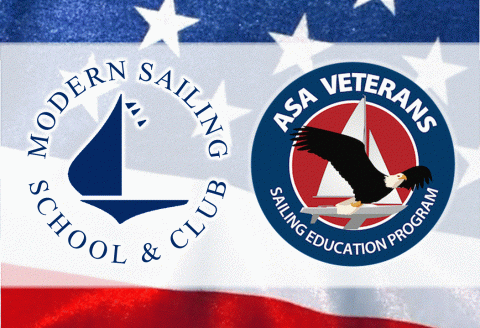 DISCOUNT FOR VETERANS ON SAILING LESSONS
Modern Sailing School & Club and the American Sailing Association (ASA) recognize the service and sacrifices of the men and women of our country's armed forces. To say thank you and show our appreciation, veterans, active duty military personnel, and reservists are invited to discover the joys of sailing - with a $50 discount on our ASA 101, Basic Keelboat Sailing Course at Modern Sailing!
Through the ASA's Veterans Sailing Education Program, non-member veterans pay only $1025 and MSC member veterans pay only $845! (Regular Prices for ASA 101 - Non-members: $1075; Members: $895.)
Step 1: Register on the ASA website and download or print your coupon. Veterans Registration - ASA
Step 2: Preview our ASA 101 schedule online to choose your preferred date(s). ASA 101 Schedule Online
Step 3: Email, snail-mail, or hand-deliver your ASA coupon to Modern Sailing and let us know your preferred course date(s). We'll contact you for payment, mailing address, and to confirm your enrollment. Email Us
Questions? Call our friendly office at (415) 331-8250.