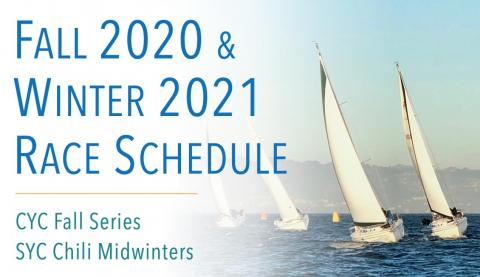 All hands on deck! The CYC Fall Series and SYC Chili Midwinter Races are on the Recreational Race Program schedule.*  The MSC Race Team continues to grow in members, experience, and successes. Join the races - your participation makes the season sparkle more brightly for you and for your teammates!
Need a nudge to get off the dock? Read 5 Reasons to Race with Modern Sailing.
CYC Fall Series
Every other Saturday, 10:00 AM - 3:30 PM.
October 31
November 14
November 28
SYC Chili Midwinters
First Sunday of every month November through March, 10:00 AM - 3:30 PM.
November 1
December 6
January 3
February 7
March 7
If you find your desired date is fully booked, please join the waitlist. We'll do our best to add another boat!
Need to stock up on races?
First, log into your Online Store account. Then come back to this page and click on your choice of Race Packs below to purchase online.

*Completion of the Modern Sailing Recreational Race Clinic is required prior to joining the races.
2021 Race Clinics
SPRING: March 12 - 14, 20
SUMMER: July 30 - August 1, 7
FALL: October 15 - 17, 23
**Single Race Drop-In can only be purchased after purchase of a Race Pack 5, 7 or 10.
Do you have questions about our Recreational Race Program? We're happy to help! Please call our office at (415) 331-8250 or email us.