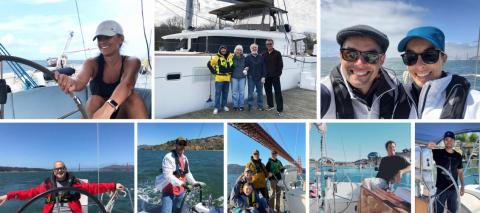 Need a healthy dose of inspiration? At Modern Sailing School & Club, we can think of no better way to look back on 2020 than by sharing eight stories of past and present MSC club members, students, and employees who have succeeded in taking some major steps towards making their dreams of sailing and cruising come true.
Click on their names to read their stories.



As club members and students of Modern Sailing since late 2018, Kate and Warren Templeton have spent the last two years building a strong foundation of skills to carry them on to their next big adventure - buying a boat of their own and planning cruising expeditions!




Warren says he knew after completing a few classes at Modern Sailing that he was going to cross oceans. Since 2018, he has sailed his Morgan 385 Eliana over 30,000 nautical miles and has nearly completed a circumnavigation.




Sean began dreaming of sailing since he lived on St. John of the US Virgin Islands in the early 1990s. Since an inspiring day in June 2020 paddling a sea kayak on Tomales Bay, he has been thoroughly committed to acquiring the skills and experience he needs to make his sailing dreams a reality.




2020 was a monumental year for MSC club members Ken and Linda Hargreaves with their first Pacific crossing, the purchase of their catamaran, and an exciting maiden sail along the Atlantic coast.




Scott has been an MSC member and student since February 2018. In November 2020, he signed his contract to join the 2022-2023 Clipper Round the World Yacht Race. Rather than crewing a single leg of the race, he will participate in the complete 11-month, 40,000 nautical mile circumnavigation. 




As a result of his dedication to his sailing education, Scott received MSC's Top Student Award for 2019. In 2020, his passion for sailing took on increasing energy with the purchase of a boat of his own. Scott and his beautiful boat are now ready to sail to Mexico - he only needs to find good crew to join him for the journey.




After joining Modern Sailing as a member and student in 2017, Scott quickly obtained a boat load of ASA certifications. In 2020, he earned his USCG captain's license and ASA instructor qualifications through classes at MSC and is now one of our instructors.




An employee of Modern Sailing since 2017 and now cruising the Caribbean, Mary writes of her development as a sailor and of Modern Sailing's role in helping her realize her biggest sailing dreams.

 
---
Are you as inspired as we are by these amazing sailing success stories? Call our friendly office at (415) 331-8250 or email us to find out how Modern Sailing can help you prepare to sail San Francisco Bay - or beyond!