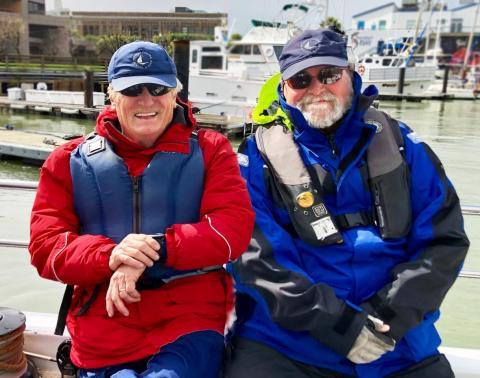 Get Paid To Share Your Passion
The famously friendly and supportive spirit of the sailing community is all about sailors helping sailors. Every sailor was a beginner once (or still is). We all have other sailors and mentors to thank for inspiring us with their passion, sharing their knowledge and skills, and helping us learn how to stay safe on the water while having fun.
Are you an experienced sailor, a USCG licensed captain (or qualified to become licensed), and ready to share your skills and passion for sailing with a new generation of sailors? Take your sailing to the next level and become an ASA-certified instructor!
Led by two of the best and most experienced Instructor Evaluators in the industry, captains Stan Lander and Bill Moreland, you will learn to teach sailing skills to ASA standards and to exemplify and multiply the sailing community's legacy of sailors helping sailors.
What does it take to become an ASA Instructor?
Visit the ASA Certified Instructor Qualification Clinic Prerequisites page on the ASA's website to learn more. Also, in our schedule below, click on the IQC name to go to the clinic's webpage, which will help you to determine your readiness.
Interested in teaching at Modern Sailing?
Our school is growing! We are always on the search for skilled and personable instructors to help meet the demand. Complete your ASA Instructor Qualification Clinic(s) at Modern Sailing and join our team of highly respected professionals! Our instructors  receive 100% tuition reimbursement for each clinic after teaching their first course at that level (ie., reimbursed for ASA 201 after teaching one complete ASA 101 course). 
Sailing Instructor Job Announcement.pdf
COVID-19 Safety
IQC class capacity is reduced from 12 to 6. Classes are held on the water and indoors in a large classroom. During classroom sessions, students will be seated at their own tables 6 or more feet apart. Masks are required at all times both indoors and while on the water.
The following IQC courses are currently available for enrollment.
FALL 2020 ASA IQC SCHEDULE
ASA 201, Basic Keelboat Sailing Instructor
Day 1 - Classroom
Sunday, October 11
5:00pm - 9:00pm
Day 2 - Classroom / Exam
Monday, October 12
9:00am - 5:00pm
Day 3 - On The Water Evaluation
Tuesday, October 13
9:00am - 5:00pm
ASA 203, Basic Coastal Cruising Instructor
Thursday, October 15
9:00am - 1:00pm - Classroom / Exam
2:00pm - 5:00pm - On The Water Evaluation
ASA 204, Bareboat Cruising Instructor
Monday, October 19
9:00am - 11:00am - Classroom / Exam
12:00pm - 5:00pm - On The Water Evaluation
ASA 205, Coastal Navigation
Tuesday, October 20
9:00am - 5:00pm - Classroom / Exam
ASA 206, Advanced Coastal Cruising Instructor
Wednesday, October 20
4:00pm - 6:00pm - Classroom / Exam
6:30pm - 10:00pm - MOB Exercises / On the Water Evaluation
ASA 214, Cruising Catamaran Instructor
Sunday, October 25
9:00am - 11:30am - Exam
12:30pm - 5:00pm - On The Water Evaluation
ASA 218, Docking Endorsement Instructor
Monday, October 26
9:00am - 11:30am - Classroom / Exam
12:30pm - 5:00pm - On The Water Evaluation
ASA 207, Celestial Navigation Instructor
Day 1
Saturday, September 26
3:00pm - 9:00pm Classroom and Rodeo Beach
Day 2
Sunday, September 27
3:00pm - 9:00pm - Classroom / Exam
---
ASA 200 Series Instructor Preparation Clinics
Haven't earned your student-level ASA Certifications yet? ASA student-level certifications (ASA 101, 103, 104, etc) are a prerequisite for the IQCs. Get certified quickly with our Instructor Preparation Clinics!
Questions? Call our friendly office at (415) 331-8250 or email us.