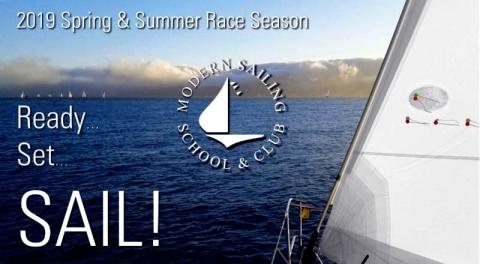 The 2019 spring race season is upon us and summer will soon be here. Learn more about the exciting program that Modern Sailing has lined up for our Race Team and aspiring racers!
The Race Program has recently expanded to include a Wind & Women Race Team. Our goal is to enter two to three boats in every race - two co-ed teams and one women's team. Boat teams may be combined if minimum enrollment for team is not met.
We make it easy for you to join in the fun - simply follow the steps below!
---
STEP 1 - GET READY!
Enroll in an upcoming Recreational Race Clinic and train to join the race team. There are two boats available per clinic with a maximum enrollment of 5 each.
---
STEP 2 - GET SET!
Log into your Online Store account and then click on your choice of Race Packs to purchase online.

*Single Race Drop-In can only be purchased after purchase of a Race Pack 5, 7 or 10.
---
STEP 3 - RACE!
Pick your race dates. Additional summer dates will be scheduled soon!
CYC Friday Night Races (5 - 10pm)
SYC Spring Series (Tuesdays 5 - 10pm)
3 boats available for enrollment with each race: 2 co-ed boats and 1 Wind & Women boat.
May 7
May 21
June 4
June 18
SYC Twin Island Series (Saturdays 10am - 5pm)
CYC Friday Night Races (Fridays 5pm - 10pm)
Questions? Call our friendly office at (415) 331-8250 or Email Us.